Leisure & Recreation - Ramstein
The AZUR Water World is a family-friendly indoor and outdoor pool providing year-round recreation for people of all ages. The indoor area is equipped with a swimmers' pool of 25 meters length, a non-swimmers' pool with massage jets and a waterfall shower, a giant slide, and a well-spaced area for kids. This area includes a water playground, a Jacuzzi, a steam bath, a sauna area offering scented steam treatments, and a restaurant. Outdoor you find a large 50 meters pool with diving platforms, a giant slide as well as a baby and kid's pool. The heated outdoor basin can be used in the winter months as well.
Opening hours:
The opening hours depend on the season. Please check the website for further information on opening hours, admission fees, and current Corona restrictions!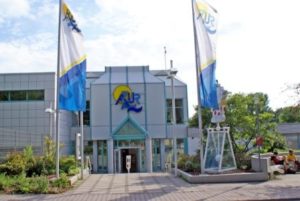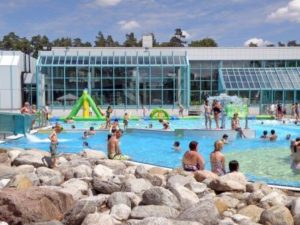 Congress Center Ramstein - CCR
The Congress Center Ramstein (formerly known as Haus des Bürgers) opened in 1986 and is located right in Ramstein's city center. In the conference area, there are adaptable rooms equipped with the latest conference technology and up to 800 seats, which offer great opportunities for regional and supra-regional conferences, congresses, seminars, exhibitions, family and work celebrations, as well as cultural and social events of all kinds. The in-house restaurant "Bühne Backstage – Backstage" www.restaurant-diebuehne.de provides the right catering for every event – whether it is a conference, fair, wedding, or private celebration. In addition to the banquet area, the restaurant itself offers a lounge area, an adjacent room, and an outdoor terrace. The varied stage program of the Congress Center including comedy, concerts, musicals, plays, open airs, dinner events, and programs for kids attracts visitors of all ages. Major annual events such as the Ramstein Summer Nights, the German-American Friendship Festival, and the Ramstein Oktoberfest are organized by the Congress Center Team. Tickets for in-house events as well as further events throughout Germany can be purchased at the service center. Bus and train tickets, as well as information and flyers about leisure activities in the local area, are available here. The facility also accommodates the German post office and the public library, providing a comprehensive collection of up-to-date media.
Opening hours Service Center:
Monday to Friday 9.30 a.m. – 12.30 p.m. and 2.00 p.m. – 5.30 p.m.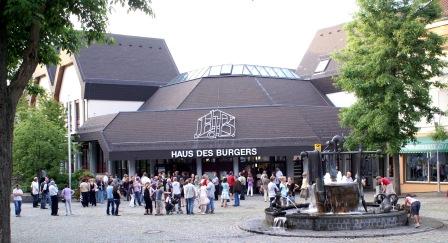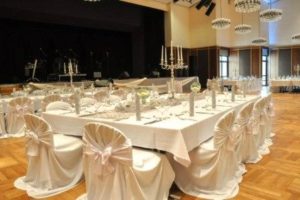 Seewoog Lake - Recreation Area
Address: Waldstrasse, 66877 Ramstein-Miesenbach/ District Miesenbach
Already in maps dating from 1847 the Seewoog is designated as one of several lakes in Ramstein and Miesenbach. The Seewoog was used as a swimming pond as well as for ice skating in winter. The first development measures to turn it into a local recreation area took place in 1971. Extensive construction works began in 2018. According to suggestions from citizens, a design and utilization concept as well as an accompanying ecological plan were drawn up and implemented within two years at a cost of 1.6 million Euros with financial support of the European Union.
Today, the recreation area around the Seewoog includes many offers: from the biotope in the east through to the western part of the recreation area with lake patio, restaurant, Kneipp water-treading basin, children´s and water playground, picnic area, barbecue area, e-bike charging station and RV sites – all accessible barrier-free!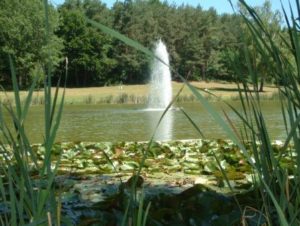 Broadway Kino – Movie Theater
Address: Merkustrasse 9, 66877 Ramstein-Miesenbach
Website: www.broadwaykino.de
Phone: +49 (6371) 93 70 37
At Broadwaykino you can enjoy the movies at six theaters with a total of 1.500 seats. All theaters have the most modern sound and projection equipment. A broad variety of the latest movies are shown in English, and dollars are accepted. The spacious lobby with a piano bar contributes to the perfect atmosphere. A huge parking lot with over 500 spaces is available as well.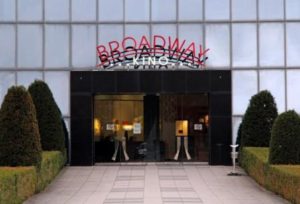 Pfadfinderzentrum Kurpfalz – Scout Center
The "Kurpfalz" Scout Center is a regular host to boy scouts and girl scouts from all over Germany. The ample site consists of a house with kitchen, bathrooms, common room, and beds for 40 people as well as a campsite for 300 people. It is rented out to groups and associations.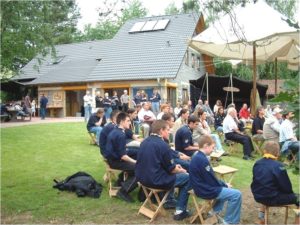 Mehrgenerationenhaus – Multi-Generation House, Youth Community Center
Address: Landstuhler Strasse 8a, 66877 Ramstein-Miesenbach
Website: www.mgh-ramstein.de
Phone: +49 (6371) 50 438
Open house for teens, youth & social work. It also organizes leisure time offerings, holiday programs for kids, and an internet café.
Opening hours:
Monday and Tuesday 10.30 a.m. – 6.00 p.m.
Wednesday 8.30 a.m. – 3.00 p.m.
Thursday and Friday 10.30 a.m. – 6.00 p.m.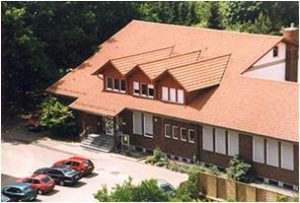 Barbarossa-Radweg - Bike Trail
Locally the trail leads along Kaiserslautern, Rodenbach, Mackenbach, Ramstein-Miesenbach, Steinwenden, Niedermohr, Glan-Münchweiler
Length: 88 kilometers
Website: www.ramstein-miesenbach.de
Phone: +49 (6371) 406 208
The Barbarossa Bike Trail runs all across the Palatinate, from the Rhine River near the imperial city of Worms, via the Barbarossa city of Kaiserslautern to the Glan River near Glan-Münchweiler. The approx. 90 kilometers (56 miles) long bike trail crosses the beautiful and varied landscapes of the Palatinate: Starting in the Rhine Valley with its vineyards and agricultural areas it leads through the Palatinate Forest Nature Reserve towards the Westrich Plateau and the North Palatinate Hills. Only on the approximately 5 km long section in the Palatinate Forest, between the Eiswoog Lake and Alsenborn, you will have to climb some steep hills. All other parts are constantly flat routes with some moderate inclines, mainly going along forests and agricultural roads.
The namesake of the bike trail is Emperor Frederick I, known as Barbarossa, who significantly shaped the history of the Palatinate in the 12th century. In addition to numerous castle ruins, the imperial palace in Kaiserslautern, the "Kaiserpfalz", is one of the most important testimonies to his work. The route logo depicts the stylized Emperor Barbarossa as a white figure on a red background.
The approx. 27 kilometers (17 miles) long section of the Barbarossa Bike Trail between the Vogelwoog Lake in Kaiserslautern and the train station in Glan-Münchweiler is suitable for families with children. The bike trail runs mainly off the main roads and offers a lot of interesting sights for children to discover like the Siegelbach Zoo or the historic grave of a Celtic prince and tribunal in Rodenbach. In the Ramstein-Miesenbach Union Community the cycle trail passes the Seewoog Lake recreation area in Miesenbach. This beautiful location with a playground, barbecue area, kiosk and lake terrace invites bikers to take a rest. You can take the train back to your starting point from various train stations along the trail, e.g. in Glan-Münchweiler, Niedermohr, Steinwenden and Miesenbach.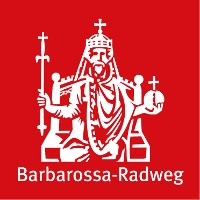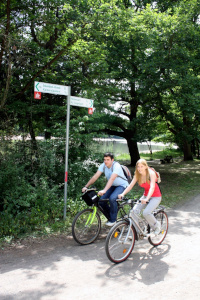 Sickinger Mühlenradweg - Bike Trail
Locally the trail leads along Ramstein-Miesenbach, Landstuhl, Weselberg, Thaleischweiler-Fröschen
Access to trail near traffic circle next to Ramstein Air Base West Gate
Length: 42 kilometers
Website: www.ramstein-miesenbach.de
Phone: +49 (6371) 406 208
North-south connection from Ramstein-Miesenbach via Landstuhl and the "Sickinger Höhe" (Sickingen Heights) down to the Schwarzbach valley. The bike trail has a length of 42 kilometers (26 miles), starting at the train station in Miesenbach, passing Nanstein Castle in Landstuhl, and passing numerous historic mill estates.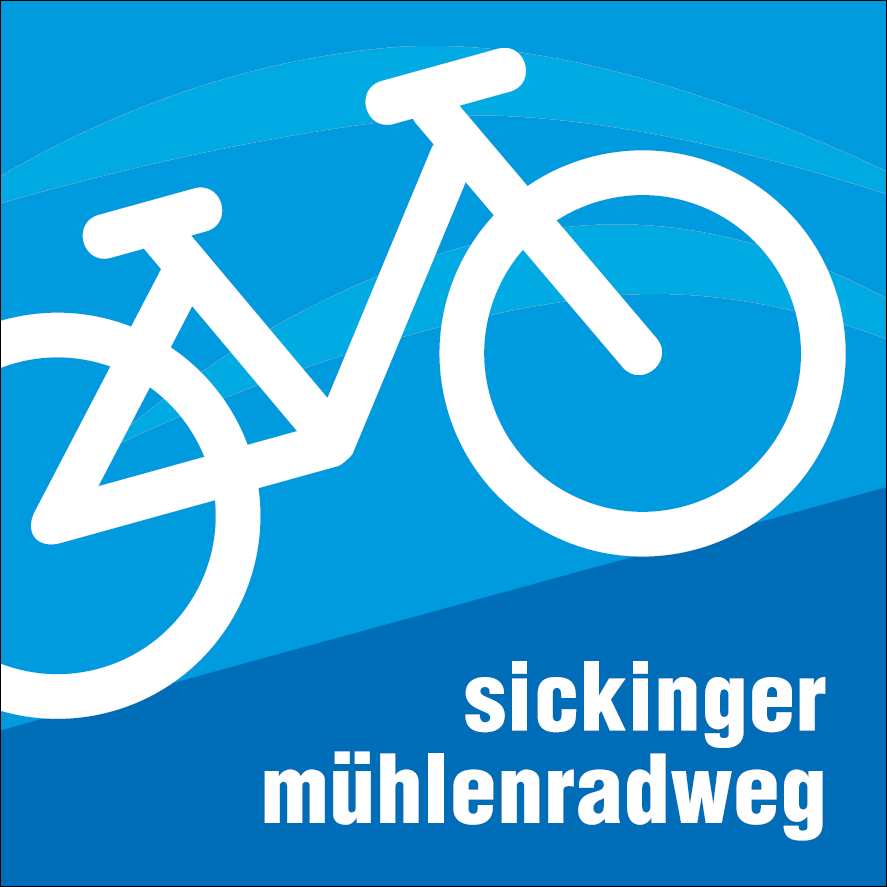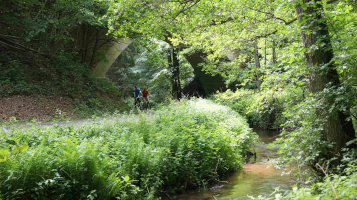 Pfälzer Musikantenweg - Hiking Trail
Locally the trail leads along Reichenbach-Steegen, Jettenbach, Kollweiler, Erzenhausen, Schwedelbach, Ramstein-Miesenbach, Mackenbach
Start: Parking lot "Otto-Feick-Platz"; from here follow the signs with a white tuba on yellow ground marking the entrance trail towards the starting point "Krämel" (length: 1.6 kilometers)
Address: Herrenbergstrasse 10, 66879 Reichenbach-Steegen
Finish: Westpfälzer Musikantenmuseum, Schulstraße 10, 67686 Mackenbach
Length: 26,9 kilometers
Website: www.weilerbach.de
Telefon: +49 (6374) 922 111
The "Pfälzer Musikantenweg" is a quality trail, awarded with the certificate 'Qualitätsweg Wanderbares Deutschland'. This certificate stands for carefree hiking enjoyment. With eleven information boards along the way you will learn about the life and activity of the traveling musicians. They were an itinerant trade that developed from around 1830 in a part of the Western Palatinate that is now called "Musikantenland" (musicians' county). Their heyday was between 1850 and the First World War. During this time several thousand musicians traveled all over the world and earned a living for themselves and their families.
The hiking route does not lead across continents, but through a varied region that invites you to relax and enjoy. It alternates between fields, forests, and meadows. Get to know the typical musicians' villages of Jettenbach and Mackenbach – most of the traveling musicians came from these two villages. Here you will still get to see the characteristic houses of the musicians. The historic center of Reichenbach-Steegen – one of the starting points – is also worth making a detour. One of the resting spots along the route is the "Jakobsbrunnen" in the community of Ramstein-Miesenbach. The fountain was named after Jakob Koch, a former mayor of Miesenbach, who had it bored beginning of the 20th century to have a central water supply for the village. If you want to know more about the traveling musicians, you should visit the "Westpfälzer Musikantenmuseum" (Palatinate Musicians' Museum) in Mackenbach. There the musicianship comes to life again.