The AZUR Water World is a family-friendly indoor and outdoor pool providing year-round recreation for people of all ages. The indoor area is equipped with a swimmer's pool of 25 meters length, a non-swimmer's pool with massage jets and waterfall shower, a giant slide and a well-spaced area for kids including a water playground, Jacuzzi, steam bath, a sauna area offering scented steam treatments and a restaurant. Outdoor you find a large 50 meters pool with diving platforms, a giant slide as well as a baby and kid's pool. The heated outdoor basin can be used in the winter months as well.
Opening hours:
The AZUR Water World is closed at present.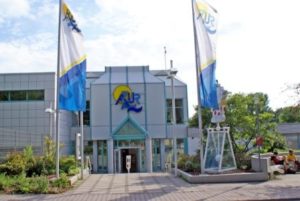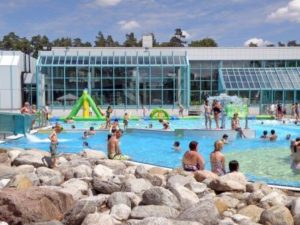 Congress Center Ramstein - CCR
The Congress Center Ramstein (formerly known as Haus des Bürgers) opened in 1986 and is located right in Ramstein's city center. In the conference area adaptable rooms equipped with latest conference technology and up to 800 seats offer great opportunities for regional and supra-regional conferences, congresses, seminars, exhibitions, family and work celebrations as well as cultural and social events of all kinds. The in-house restaurant "Bühne Backstage – Backstage" www.restaurant-diebuehne.de provides the right catering for every event – whether it is a conference, fair, wedding or private celebration. In addition to the banquet area the restaurant itself offers a lounge area, an adjacent room and an outdoor terrace. The varied stage program of the Congress Center including comedy, concerts, musicals, plays, open airs, dinner events and programs for kids attracts visitors of all ages. Major annual events such as the Ramstein Summer Nights, the German-American Friendship Festival and the Ramstein Oktoberfest are organized by the Congress Center Team. Tickets for in-house events as well as further events throughout Germany can be purchased at the service center. Bus and train tickets as well as information and flyers about leisure activities in the local area are available here. The facility also accommodates the German post office and the public library providing a comprehensive collection of up to date media.
Opening hours Service Center:
Monday to Friday 9.30 a.m. – 12.30 p.m. and 2.00 p.m. – 5.30 p.m.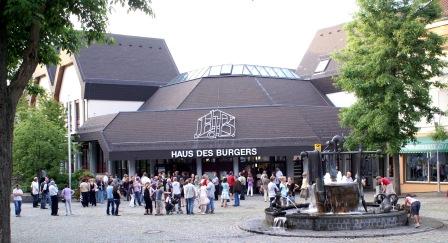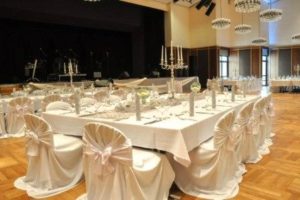 Address: Waldstrasse, 66877 Ramstein-Miesenbach/ District Miesenbach
Formerly used for fish farming, Seewoog Lake nowadays is an oasis for rest and relaxation for everyone. With its BBQ area, playground, lawn for sunbathing and nice walkways Seewoog Lake attracts the young and old both alike. A kiosk offers drinks and snacks. With a water surface of 19.000 square meters it is the biggest lake in the Union Community of Ramstein-Miesenbach. A special attraction in the summer months is the water fountain with a height of 8 meters in the center of the lake.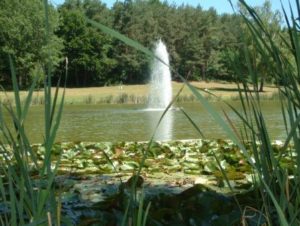 Broadway Kino – Movie Theater
Address: Merkustrasse 9, 66877 Ramstein-Miesenbach
Website: www.broadwaykino.de
Phone: +49 (6371) 93 70 37
At Broadwaykino you can enjoy the movies at six theaters with a total of 1.500 seats. All theaters are equipped with the most modern sound and presentation techniques. A broad variety of the latest movies are showing in English and dollars are accepted. The spacious lobby with a piano bar contributes to the perfect atmosphere. A huge parking lot with over 500 spaces is available as well.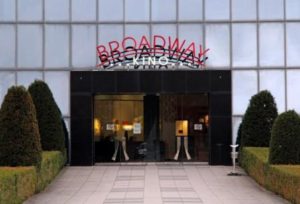 Pfadfinderzentrum Kurpfalz – Scout Center
The "Kurpfalz" Scout Center is a regular host to boy scouts and girl scouts from all over Germany. The ample site consists of a house with kitchen, bathrooms, common room and beds for 40 people as well as the camp site for 300 people. It is rented out to groups and associations.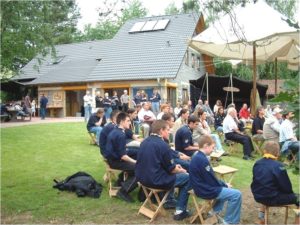 Mehrgenerationenhaus – Multi-Generation House, Youth Community Center
Address: Landstuhler Strasse 8a, 66877 Ramstein-Miesenbach
Website: www.mgh-ramstein.de
Phone: +49 (6371) 50 438
Open house for teens, youth & social work, leisure time offerings, holiday programs for kids, internet café
Opening hours:
Monday and Tuesday 10.30 a.m. – 6.00 p.m.
Wednesday 8.30 a.m. – 3.00 p.m.
Thursday and Friday 10.30 a.m. – 6.00 p.m.