Points of Interest - Oberes Glantal
Address: Sangerhof, 66909 Henschtal
On a level of 378 meters the Sangerhof Tower is the highest elevation in the municipality of Henschtal. The tower is located on the premises of Sangerhof stud farm. The former water tower has a height of 15 meters. Today it serves as a mobile phone base station and viewing tower. A narrow, steep stairway leads to the top of the tower. Through small windows you can enjoy magnificent views of the surrounding area.
Opening hours:
Sangerhof Viewing Tower is closed at present.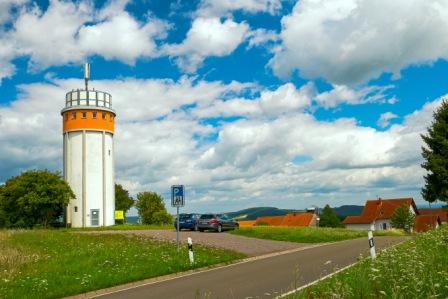 Watchtower – District Ohmbach
Address: Schulstrasse, 66903 Dittweiler/ District Ohmbach
The 7.50 m high replica of a medieval watchtower was built in 2005 as a landmark along the "Diamantschleifer-Weg" hiking trail. It is located on communal district of the municipality of Ohmbach, below a 375 meters high summit called "Wartenstein". According to tradition, an old stone vantage point is suspected on this distinctive hill between Ohmbach and Kohlbachtal. In the Middle Ages watchtowers served as look-outs for sentinels and guard towers. The summit "Wartenstein" offered great visibility. Approaching dangers could be foreseen and reported in time. From that hill there was visual contact to an imperial castle that was located in Kübelberg in the Middle Ages. Nowadays people still take advantage of the topographic benefits of the summit. In addition to a high-level water tank, a mobile phone base station was installed a few years ago.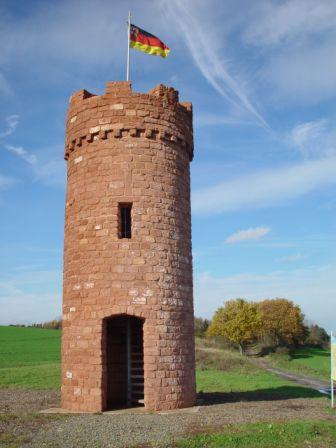 Gallows Hill – District Sand
Address: 66901 Schönenberg-Kübelberg/ District Sand, next to road L356
The district names "Am Galgenhügel" (engl. gallows hill) and "In der Galgendell" (engl. gallows dell) indicate that this area was the location of the gallows of the former Electoral Palatinate Court in Kübelberg. A historic main road from Metz to Mainz was leading along here. From the 12th until the 16th century the court exercised jurisdiction for death sentences on behalf of the territorial sovereign. In the Middle Ages it was common to carry out death sentences in pubic in order to scare off and indoctrinate the spectators and transients. The court was dissolved in 1797. A replica of the gallows was set up here as a landmark along the "Ritter Gerin" hiking trail.