Waldwarmfreibad - Heated Outdoor Pool
Address: Zum Hasensprung, 66892 Bruchmühlbach-Miesau/ District Miesau
Website: www.tourismus-vgbm.de
Phone: +49 (6372) 8167
The heated outdoor pool is a fun and wellness spa with stainless-steel basins. In addition to four 25 meters lap lanes and two 50 meters lap lanes, there is an extra-wide water slide, a jet stream channel, a Jacuzzi, and neck-massage water jets. All basins have a water temperature of at least 75.2 °F (24 °C). The little guests can enjoy a modern three-part wading pool with attractions, as well as a playground. The large lawn is the perfect place for sunbathing and relaxing. A well-equipped kiosk offers snacks and drinks.
Opening hours:
The opening hours depend on the season. Please check the website for further information on opening hours and admission fees.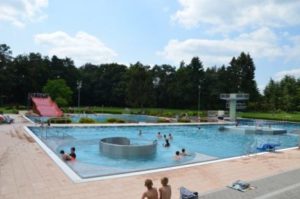 Vogelquelle – Kneipp Water-Treading Basin
Address: Lambsborner Strasse 39, 66892 Bruchmühlbach-Miesau/ District Vogelbach
The Vogelquelle is a chilly source of refreshment for hikers, Nordic walkers, and joggers who want to improve their health. You start bathing your arms in the trug of the freshwater fountain. Afterwards you wade through the cool spring water in the basin. The area surrounding the water-treading basin was restored within the past years. A rest area including a wooden refuge as well as tables and benches invites visitors for a picnic. The Vogelquelle can be reached within a 5 minutes walk starting from the parking lot of the Vogelbach sports ground, following the hiking trail with the sign B13.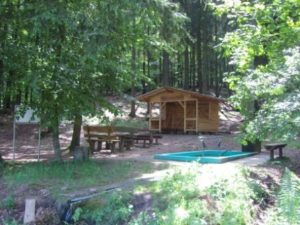 Pfälzer Moortour - Bike Trail
Locally the trail leads along Hauptstuhl, Bruchmühlbach-Miesau, Waldmohr, Schönenberg-Kübelberg, Elschbach
Length: 26 kilometers
Website: www.tourismus-vgbm.de
Phone: +49 (6372) 922 0106
Easy round tour with a total length of 26 km (16 miles) leading through the diversified and charming moorlands of the "Westricher Moorniederung"  (bog lowland). The tour is ideal for families, as it doesn't include heavy climbs. It is possible to cycle the tour in two stages.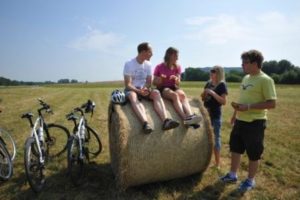 Bug Safari - Family Discovery Tour
Start/Finish: Parking lot for hikers next to Fritz-Claus-Hütte
Address: Next to road L466 between Bruchmühlbach and Martinshöhe
Length: 7 kilometers (4 kilometers short tour)
Website: www.tourismus-vgbm.de
Phone: +49 (6372) 922 0106
Bring your family and go on a discovery tour with stag beetle Luca. He accompanies you from station to station and gives explanations about nature, the environment, and the forest animals. Check out the experience elements such as animal voices, mud holes, weight lifting in competition with an ant, and much more. Not only little hikers, but also people of all ages have fun here and get to know the local forest! The route runs on wide forest and gravel paths and is stroller friendly. You have the choice between a short tour of 4 kilometers (2.5 miles) and the long tour of 7 kilometers (4.3 miles).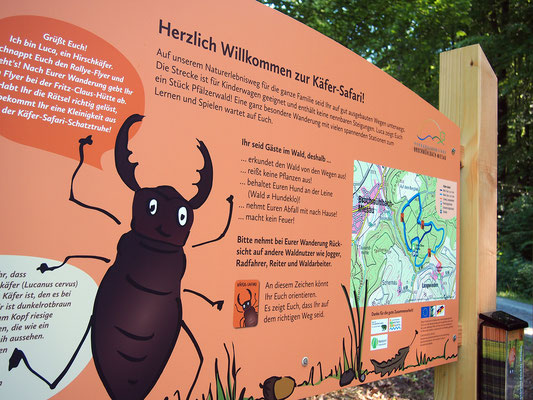 Sagenhafter Waldpfad - Quality Hiking Trail
Start/Finish: Bruchmühlbach Railway Station
Address: Am Bahnhof, 66892 Bruchmühlbach-Miesau
Length: 17.7 kilometers
Website: www.tourismus-vgbm.de
Phone: +49 (6372) 922 0106
"Sagenhafter Waldpfad" is a quality trail with a total length of 17.7 kilometers (11 miles) that leads you through two different and unique landscapes. Several information boards tell you about local myths and legends – scan the QR codes to get the information in English. Along the first kilometers, you climb up the Westrich Plateau which is also called "Sickinger Höhe" (Sickingen Heights). It was named after the famous knight Franz von Sickingen whose castle ruin Nanstein perches above Landstuhl. In this region, you also find various historic mill buildings. From the heights, you can enjoy scenic views down on the mystical "Westricher Moorniederung". Unspoilt grasslands, silent forests, bizarre rock formations, wild canyons, and sunlit views are awaiting you. There are several starting points for the "Sagenhafter Waldpfad". The main start is at the Bruchmühlbach-Miesau railway station. Depending on your condition, you can choose between various trail lengths, no matter if you walk the trail clockwise or anticlockwise.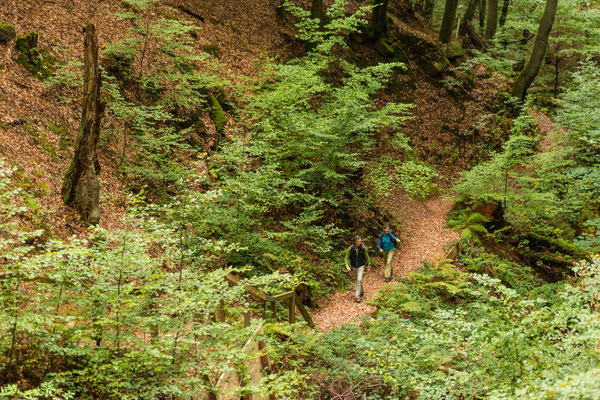 Palatinate Way of Saint James
For about 1000 years, people have gone on pilgrimages to Santiago de Compostela in the northwest of Spain, to visit the tomb of Saint James. The trail is marked with a white scallop on a blue background. The north route of the Palatinate Way of Saint James leads through the community of Bruchmühlbach-Miesau and passes the Elendsklamm ravine and the Simultankirche Vogelbach.