Leisure & Recreation - Donnersberg
Indoor swimming pool, non-swimmer's pool, children's pool, massage nozzles, aerator, water cannon, neck jet, children's slide shaped like a snake, water squirt, pirate ship, sauna, steam bath, adventure showers, sun terrace, and a lot more.
Opening hours:
Kibobad Indoor Pool is closed at present.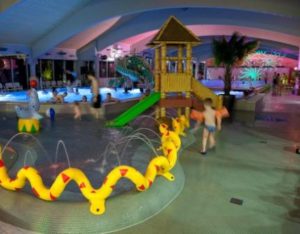 At all times of the year, signposted trails around the Eiswoog Lake invite walkers, hikers and sportsmen for outdoor activities. In summer you have the opportunity to swim in the lake in order to cool down or to promote your health by the water-treading basin (Kneipp basin). Furthermore, you will find a barrier-free adventure path called Naturerlebnispfad and a playground at the Eiswoog Lake.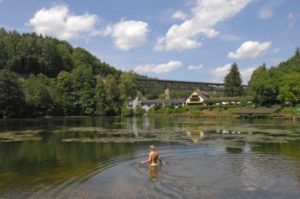 The fairways are selective, varied and require a well-considered and tactical game division. The golf course offers well-spaced tees, undulated greens, long fairways, several ponds and biotopes. Playing on the 67 hectare big surface becomes a special experience. The golf course is open year-round.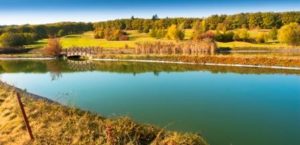 Erlebnislandschaft Erdekaut – Ecological Park
The "Riegelstein Mine" which is located in the former clay and sand pit area between Eisenberg and Hettenleidelheim, was operating until 1996. After the mine was abandoned, an unique nature preserve with rare plants and animals was created. Signposted hiking trails, several view points and adventure playgrounds invite children as well as adults to spend their leisure time here.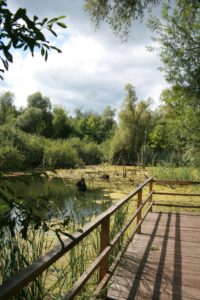 Celtic Garden Steinbach – Ecological Park
A stroll through the Celtic Garden shall acquaint the visitor in an illustrative way with the life, the working world, the culture as well as the natural environment at the time of the Celts 2000 years ago. Information boards display details about specific features of the flora and fauna at the Donnersberg Mountain. Furthermore the boards describe Celtic customs, lifestyle habits, beliefs and technical achievements. For children there are close to nature play areas and lots of space to romp around.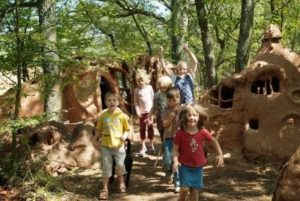 Stumpfwaldbahn – Narrow Gauge Railroad
The "Stumpfwaldbahn" offers locomotive-drawn rides on a narrow-gauge railroad along a scenic route of 4 km (2.5 miles). Travel time for the rounde trip is approximately 45 minutes. Rail passengers can get on the train at the Eiswoog Lake, at Bockbachtal Train Station near Kleehof or in Ramsen West.
Opening hours:
The narrow-gauge does not operate at present.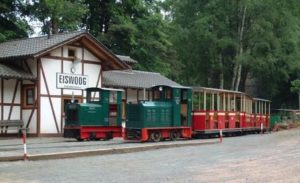 Gartenbahn - Garden Model Railroad
Known as the nationwide only model railroad on a scale of 1:5, that has a passenger transportation license, the Börrstadt Garden Railroad not only fascinates children and diehard railroad fans. The locomotives were built truly to original by Karl-Heinz Jung. With a train station, signal tower, tunnel, bridge and a railroad crossing the premises around the community center offer the perfect scenery for an amusing round trip with the garden railroad.
Opening hours:
The garden model railroad does not operate at present.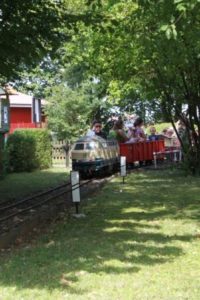 Zellertalbahn - Excursion Train
From May until October trains ply between Monsheim and Münchweiler/Alsenz or Hochspeyer on Sundays and German holidays. Stops are in Monsheim, Wachenheim, Zellertal-Harxheim, Albisheim, Marnheim, Dreisen, Münchweiler/Alsenz and Hochspeyer. Wineries, cafés and restaurants along the track invite you to take a rest. Besides that there is a varied offer of leisure time possibilities, sights and events.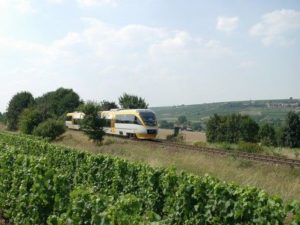 Pfälzer Höhenweg - Long Distance Hiking Trail
Start: Winnweiler Train Station; Bahnhof Park, 67722 Winnweiler
Finish: Wolfstein Train Station, Bahhofstrasse, 67752 Wolfstein
Length: 114 kilometers
Website: www.donnersberg-touristik.de
Phone: +49 (6352) 1712
The "Pfälzer Höhenweg" with a lengh of 114 km (71 miles) leads through the Donnersberg Mountain region and invites you to a special hiking experience. The route passes historical castles, small towns and woods. Although the certified hiking trail leads you to the highest elevation in the Palatinate, the Donnersberg Mountain, it can easily be managed, since there are plenty of possibilities to take a rest. It is recommended to hike the trail in seven stages with stop overs in Dannenfels and Bastenhaus as well as the scenic towns Rockenhausen, Obermoschel, Meisenheim and Lauterecken. Stage 2 from Dannenfels to Bastenhaus Hotel-Restaurant will take you to the Donnersberg summit.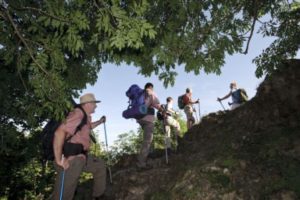 Alsenztal Radweg - Bike Trail
Leading along Enkenbach-Alsenborn, Winnweiler, Rockenhausen, Alsenz and Bad Münster am Stein
Length: 53 kilometers
Website: www.donnersberg-touristik.de
Phone: +49 (6352) 1712
The multifaceted biking trail is 53 km (33 miles) long and leads across hilly landscape along the Alsenz creek from Enkenbach-Alsenborn up to Bad Münster am Stein-Ebernburg.